As the economic landscape shifts, recruitment agencies may be struggling to keep up with the rising prices. Agency owners are now looking for ways to get more value from their existing tools and databases – so how exactly can that be achieved with clean data and an optimised internal CRM?
Saving Money with an Optimised Internal CRM
It's no secret that using your own internal CRM is one of the most cost-effective recruitment methods, especially if your databases are filled with clean data on both candidates and clients.
.
With an optimised CRM, the need to rely on external – and therefore, less cost-effective – databases such as job boards is significantly reduced.
.
Not to mention, with your internal CRM you know precisely which information is being collected and so you can use the information to streamline recruitment workflows, improve candidate experience, and exponentially boost your candidate acquisition efforts.
.
While healthy data can help launch a recruitment agency to success by streamlining and optimising every aspect of the candidate experience, unhealthy data can actually be damaging to an agency's reputation.
Challenges with Traditional Customer Relationship Management
More and more we're seeing recruiters struggling to update their CRMs in real-time, one part because they're busy working on revenue-generating tasks but sometimes because of a lack of access, understanding, or training
.
And the reality is, a lot of data collected by recruiters is either redundant or outdated. So if maximising the performance of your internal CRMs is vital for success, why does it take so many people years to do it?
.
Well, it's because traditional CRMs have a few issues at their core that make them less effective in comparison to external resources.
.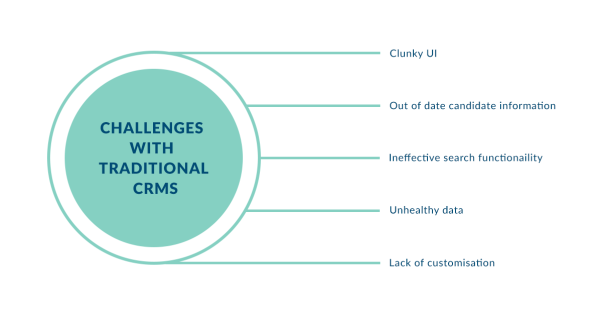 Clunky UI
Traditional UI's aren't user-friendly or intuitive, in fact, they often have a long learning curve as well as frustrating user experience.
.
How are you supposed to remember all of the information stored on your CRM if its own database is something of a labyrinth? Thanks to CRMs like Bullhorn, you don't have to.
Out-of-date candidate information
Information collected by recruiters often doesn't meet the needs of the agency, especially when a candidate's contact details are wrong or their experience has changed since their last interaction.
.
Constant communication is vital to making placements and with so many candidates to place, it can be difficult to keep track of who you're contacting next and what exactly it is they're looking for.
.
By automatically sourcing notes during calls, recruiters can ensure there is a personal history attached to a candidate, enabling a personalised approach but also building out candidate profiles for recruiters to use in future interactions.
.
This additional qualifying information that wouldn't otherwise be recorded can assist you in placing candidates in jobs based on cultural expectations. Through this, recruiters can cultivate an optimal candidate experience as it prevents double calls from the same agency enhancing the candidate experience.
.
From this, we see a real key advantage of using your CRM data because it enables you to record any contact made with candidates and clients.
Ineffective Search Functionality
Moreover, the search capabilities of most internal CRMs aren't as powerful as those available with rectech solutions on the market and so finding the right candidates for the job isn't always easy.
.
The above are just some of the reasons why many companies that are well served by traditional CRMs are so out of date when it comes to hiring.
.
Having an optimised CRM filled with rich data allows recruiters to execute better searches and have high-quality candidates returned to them at the click of a button. By circumventing the need for external databases, recruitment agencies can continue to lower candidate acquisition costs while substantially driving ROI.
So why is clean data so important to internal CRMs?
Your internal database is filled with candidates you've personally contacted and cultivated relationships with, people you have a personal rapport with and can tap into at any time.
.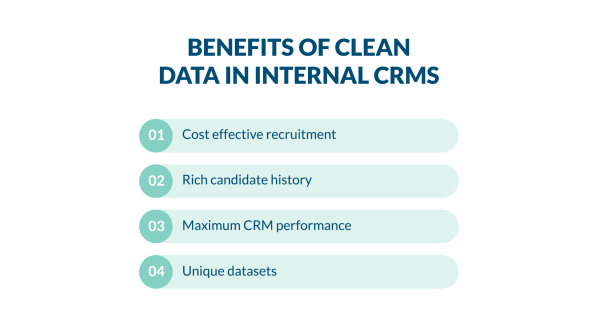 .
Effectively, an internal CRM is your agency's personal black book but other benefits include:
●
Instant access to an entire history of candidate profiles, skills, CVS, call information and internal recruiter notes, allowing for improved hyper-personalised outreach.
●
Time and effort have already been spent acquiring the data and in some cases, it's unique data other agencies don't have access to.
Maximising Placements From Your CRM With SourceBreaker
Agencies tend to seek out external databases instead of their own internal CRMs because of how their own datasets and databases are structured but SourceBreaker cuts through this, searching against both the structured and unstructured datasets and ensuring only the best match candidates are uncovered with just a few clicks.
.
In the instances you do need to search externally, SourceBreaker enables recruiters to parse candidates from any external database – into the CRM – with all of the candidate information, job title, skills, and experience being added frictionlessly.
.
To keep your competitive edge, the SourceBreaker platform automatically adds synonyms to ensure all relevant candidates are returned without the need for time-consuming, manual searches being built out by recruiters.
Maximum CRM Performance & Lowered Costs
Cost-effective is one way to look at it but essentially, it's free candidate acquisition at its finest because all of the unique data you're using, is data that's yours.
.
If that's not a competitive edge, we don't know what is. For more recruitment hacks, tips and tricks, check out our most recent eBooks!